Handsome Bob Stack tells why even PTA groups approve of the violence in his sensational cops-and-robber show. He also discloses some of his pet TV hates.

By Pete Martin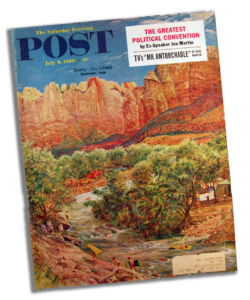 Robert Stack is a thinking man's thinking man – with sex appeal. He can also act. But he doesn't make with the one-liners, the stand-up comedy bits, the cute anecdotes. He is not a cutup. His thought processes travel through his mind with all the immediacy of a 1920-1930 gangster's automobile screeching around a Chicago corner on two wheels, just as the ancient crates in his television show, The Untouchables, reel round the corners they turn.

I'd gone to see Stack because The Untouch­ables is now rated the No. 2 TV show in the country, close on the heels of Gunsmoke. It's a phenomenal thing for a TV show to become No. 2 during its first year. I Love Lucy did it, but the normal pattern is a build-up of two or three years before a show reaches such heights of popularity. 
To anyone interested in peeling back the layers of outer covering to get at the core of what makes a smash TV success, Stack is the right man. As he and I talked, it seemed to me that we came close to doping the answer as to what made The Untouch­ables the biggest hit among the new TV series of the 1959-60 season. Stack was concerned with the reasons behind the resounding success with which he happened to be connected. "Maybe," he told me, "if I know the whys, I can help keep them that way."  Read More